Rent a Tank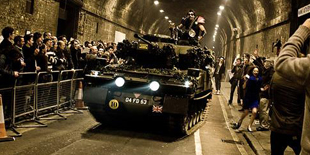 MSC Military Division can provide vehicles with qualified drivers for Film and TV productions and commercials or as a static display.
We offer a big range of military vehicles for hire, including Jeep hire, Tank hire & Truck hire!
We can collaborate with film and TV companies to supply the most suitable vehicle for the job.
Our vehicles will add a real presence and authenticity to your film set.
Our range of vehicles is also available for:
Promotional work
Photo shoots
Product launches
Publicity stunts
Wedding and special events
We can transport required vehicles and driver to your desired location for filming on specialist transport
Many of our vehicles are road legal and can make a striking entrance to your special event
We have a large range of vehicles for hire including tanks, armoured personal carriers, jeeps and trucks plus many other unusual vehicles.
Please note that if a vehicle is not on our list with our vast array of contacts we should still be able to source requested vehicle.
We can also provide military experts to advise and liaise with you for a more authentic look.
Please note, we do not offer prom hire due to insurance liability issues.