FV432 Military Vehicle For Hire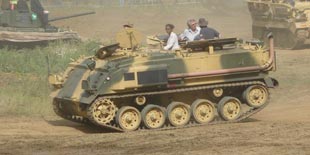 The FV432 is the armoured personnel carrier variant of the British Army's FV430 series of armoured fighting vehicles. Since its introduction in the 1960s it has been the most common variant, being used for transporting infantry on the battlefield. In the 1980s, almost 2,500 vehicles were in use, with around 1,500 now remaining in operation - mostly in supporting arms rather than front-line infantry service.
This Military Vehicle Is Available For Hire!
FV432
Type
Armoured Personnel Carrier
Place Of Origin
United Kingdom
Manufacturer
GKN Sankey
Service History
In Service
1960 - Current
Used By
United Kingdom
Wars Used In
Bosnia Conflict
Gulf Wars
Afghanistan
Specification
Weight
15 Tonnes
Height
2.8 m
Width
2.8 m
Length
5.25 m
Number Of Crew
2 + 10 Troops