SAS Desert Jeep Military Vehicle For Hire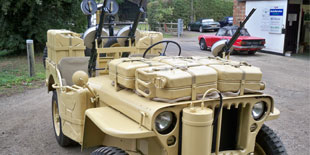 The Willys MB US Army Jeep (formally the Truck, 1/4 ton, 4x4) and the Ford GPW, were manufactured from 1941 to 1945. These small four-wheel drive utility vehicles are considered the iconic World War II Jeep, and inspired many similar light utility vehicles. Over the years the Jeep remained in service with many armies well into the 1970's.
This Military Vehicle Is Available For Hire!
Willy's MB Jeep / Ford GPW
Type
Light Utility Vehicle
Place Of Origin
United States
Manufacturer
Willy's & Ford Motor Company
Service History
In Service
1940 - 1970
Used By
United Kingdom, United States,
France, Russia
Wars Used In
World War II
Korea War
Vietnam
Specification
Weight
1 Tonne
Height
1.83 m
Width
1.57 m
Length
3.33 m
Number Of Crew
4