Snatch Land Rover For Hire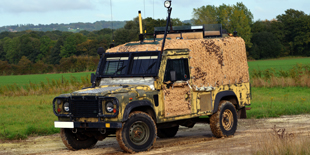 The Snatch Land Rover is a protected patrol vehicle, based around theLand Rover Defender 110 chassis, intended for general patrolling in low-threat areas and is the successor to the Truck Utility Medium (TUM) with Vehicle Protection Kit (VPK). The vehicle was developed for use in the Northern Ireland area of operations in 1992, for use in rural patrolling and providing some degree of small arms protection for occupants and a limited level of protection from Improvised Explosive Devices and off-route mines.
This Military Vehicle Is Available For Hire!
Snatch Land Rover
Type
Patrol Vehicle
Place Of Origin
United Kingdom
Manufacturer
Land Rover
Service History
In Service
1992-2010
Used By
British Army
Specifications
Weight
8,930lb (4,050 kg)
Length
4.55m
Width
1.79m
Height
2.03m
Crew
2+4