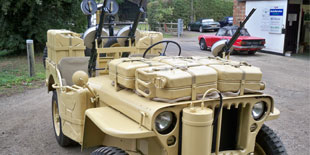 Having built the famous Tamiya SAS desert jeep model as a teenager I thought it would be great to recreate this iconic vehicle for real.
All available original pictures were gathered and studied to see what armaments, webbing etc. should be used. In fact the research on the project is half the fun.
I already owned a 1942 Ford GPW Jeep that I rebuilt as a British Airborne vehicle and I managed to acquire a 1945 Willys Jeep needing a total restoration. It was an ideal basis as most exterior fittings were missing.
The vehicle was completely stripped down to component form and everything was sent away for shot blasting. The chassis was not too bad needing a rear cross member and front repairs. The body tub needed a complete front floor and various other repairs but again not too bad. One wing was also too far gone but the rest was saveable.
All the panel and metal work was carried out in house and at this time it was still a standard jeep apart from the front grill which was cut out to replicate the SAS vehicle. The axles, suspension, engine and gearbox were all totally rebuilt and sprayed in desert yellow. The rolling chassis was then reassembled.
With the corrosion repairs completed on the body tub, now was the time to fabricate the gun mounts, the jerry can racks and other desert modifications.
All this work was carried out in house and then all components were again painted in desert yellow.
The painted body was then refitted and all the ancillaries added and it was not long before the jeep was up and running.
It was now time to mount our replica Vickers K guns which we had made. Details like the sights; grips etc. were fabricated and fitted. Being cast in alluminium they certainly feel right weight wise.
Many trips to various military fairs over the previous 6 months had resulted in a large stock of correct webbing bags straps and fittings being acquired. The bags etc. were stuffed with newspaper and hung on the vehicle as per the original photos.
Fifteen 1943 Jerry cans were acquired off e bay and painted and strapped into position on the vehicle along with spare K gun magazines.
Because off running with two spare wheels the rear lights were obscured and in view of road safety we decided to fit a rear trailer board with modern rear lights which could be quickly removed for show purpose.(A wise move in view of recent tragic events)
The SAS jeep is the ultimate accessory vehicle as you can just keep adding bits of kit as they turn up.
(Is it ever finished?)
The completed vehicle made its first show appearance at Combined Ops at Headcorn in August 2011 with just 17 miles on the clock and also made the 70th Jeep anniversary at Woolwich arsenal in December 2011 completing the 100 mile round trip without incident.
The originals were modified in the field with bits added as deemed necessary. Re-creating this vehicle you begin to understand why things were done in a certain way and we had to be careful not to over engineer our brackets and fittings because the originals certainly were not!