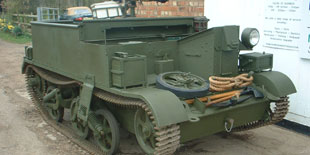 A truly uniquely British invention obsolete before it even entered service yet went on to being the most numerous armoured vehicle ever built
Having acquired a tatty MK2 that just about ran I decided early on to make my carrier into a medium machine gun carrier.
I used a modelling book as my major reference for internal and exterior storage and fittings, but the first thing was to get this carrier running and driving.
It was found that the head gasket had gone and that the vehicle constantly overheated due to a blocked radiator.
This was duly removed and recorded and refitted. The cylinder heads were removed and refaced and refitted using new head gaskets. A new distributor cap and leads were fitted along with the metal coolant pipes which I replaced in stainless steel. A new stainless steel exhaust system was made up and fitted. The original fuel tanks were also badly corroded and filled with conkers!!The vehicle was in fact running off a jerry can! New fuel tanks were fitted along with new fitting straps and pipework.
Fresh fuel was added along with all oils and filters changed. The V8 started easily and ran surprisingly well and was soon up to temperature and then stayed there!
As it was now running a short drive around the field was in order. All OK until it through a track .Knew I should have adjusted them beforehand. After much sweat and tears and swearing I was back on the move back into the garage slowly.
With the mechanical aspect sorted I then set about fabricating the metal work. I made and welded on the metal tubing that surrounds the crew compartment. Next up was the oil and water stowage racks front and rear as well as the spare wheel clamp and rope brackets. Two sets of pioneer brackets were made for the front and rear of the vehicle. A rear stowage box and internal tool and stowage boxes along with two rear set frames. A central Vickers rotating gun mount for the engine deck and a Vickers stowage brackets for inside of the vehicle were next on the list.
Rifle clamps and fire extinguisher brackets were added next along with numerous other fixtures and fittings.
A good paint of army green was applied and she certainly looked the part.
However the driving was not good. I just could not get on with it and if I didn't like driving it there was no point in owning her. I loved the look and the quirkiness of the carrier but hated driving it so after 4 years work I sold her!
But my love affair with armour continued and I subsequently bought a CVRT Sabre needing restoration