Land Rover 101 Forward Control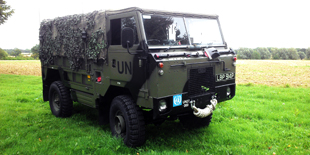 The vehicle was primarily produced to meet the Army's requirement for a gun tractor, and was designed to tow a field gun (the L118 Light Gun) with a ton of ammunition and other equipment in the rear load space, giving it the alternative name of the Land Rover One Tonne. The vehicle was designed to be easily transported by air; the positioning of the 3.5litre Rover V8 engine beneath and to the rear of the cab eliminates the bonnet at the front, making the vehicle more or less cuboid thus reducing unused space in transport aircraft. Of concern was the payload was rather limited and stability concerns, particularly when crossing an incline.
The official name of 101 Forward Control is derived from the vehicle's 101-inch (2,565mm) wheelbase, and the position of the driver, above and slightly in front of the front wheels which used a fairly large 9.00 × 16inch tyre. To cope with the extra height above the ground, the wheels feature an unusual feature for a Land Rover (but used for many years on the much older and similar Mercedes Unimog S404); a flange around the centre of the wheel has an embossed tread pattern forming a step for the crew when entering the cab, otherwise named a wheel-step.
This Military Vehicle Is Available For Hire!
Land Rover 101 Forward Control

Type
Light Truck
Place Of Origin
United Kingdom

Manufacturer
Land Rover

Service History
In Service
1972-1995
Used By
British Army

Specifications
Weight
4242lb (1924kg)
Length
4.3m
Width
1.8m
Height
2.3m
Crew
2+12