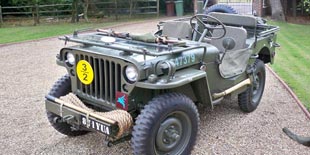 I acquired my 1942 Ford GPW in 2003 as a wreck, I paid too much for it and I bought it on a whim because I did not touch it for another 7 years!
Whilst watching a repeat of the Goodwood Revival on the TV over New Year 2010, my wife mentioned that she would like to go to the Goodwood Revival. I stated that I did not have a suitable vehicle only to be told "why don't you restore that old jeep?"
Like a fool I said great idea. The vehicle was dragged out from the back of our storage unit and totally dismantled. She was in a bad way! So everything went off to the sandblasters. Not much came back!
The chassis had been badly repaired and was also bent.
The body was equally bad, floors shot, rear panel missing, rear quarters shot, glove box internals cut away etc. It was a mess.
In hind sight it would have been cheaper to have bought a new chassis and body but then it's a replica not a 1942 Ford Jeep. Also having the skills and equipment to hand to restore the chassis and body does help and I did want to keep as much original as possible.
The chassis was totally dismantled and the legs straightened on our jig. I learned how to hot rivet the chassis back together and fit new rear cross member, 8 spring mounts, 4 shock absorber mounts, front and rear bumper gussets plus countless other repairs. But we ended up with a manly original and straight chassis.
With the body we ended up making new front floors and retaining the gearbox tunnel with its original F stamp still visible. A new rear panel was fitted the rest of the panels we made ourselves. The wheel arch top panels being replaced along with new rear quarters and rear floor areas but again we ended up with a repaired original body with original F marked front wings, bonnet, front grill and windscreen frame.
The axles, gearbox and engine etc. were all totally rebuilt then all components were painted in two pack paint. With everything ready for assembly the rolling chassis was put together in a single afternoon. After all the problems with the chassis and body it was nice to see real progress at last.
The body tub was then painted next and then fitted onto the completed rolling chassis.
The rest of the jeep then came together quite quickly as long as the supply of restored parts was kept up to speed.
It was always my intention to make my jeep a replica of the British Airborne type. An airborne front bumper was duly fitted along with a removable steering wheel. The bonnet ammunition rack and Wing crate were fabricated from drawings as were the spare wheel clamp. It was my intention to fit a Vickers K gun and mount onto the dash top but at the time I had no access to a decent K gun and this would also stop the use of a full windscreen.
I did however have an M38 pedestal mount and a deactiveated Browning 30 calliber so these were fitted instead .Not 100% correct but they certainly look the part.
I also fitted Bren gun and rifle clamps as per the original spec and with the appropriate weapons in position it certainly helped with the finished look.
The applications of the correct stencils certainly were the finishing touches.
Did it make it to Goodwood September 2010? Basically NO!
The Jeep was finished and had completed nearly 500 miles running the engine in with no issues. The morning of the trip the new fuel pump failed before I had even left the drive!! We did make it to Goodwood but in my trusty Golf GTI
Since then over 1500 miles have been completed trouble free and the vehicle is now a regular at military shows.